| | | | | | |
| --- | --- | --- | --- | --- | --- |
| 原産地: | 台湾 | コンダクターのサイズ: | 5 - 10 AWG | 銘柄: | シャイニング |
包装
| | |
| --- | --- |
| 包装: | 50pcs/box、 400pcs/8箱/n。 w。: 17.1kgs/カートン |
仕様
TA-060 Din Rail Type M6 Screw 600V 60A Weidmuller Terminal Strip
Gerneral Product Information
Item number:
TA-060
Rating:
600V, 60A
Size:
76.0*50.0*38.0mm (L*W*H)
Wire Size:
16.0 mm2 / AWG 6
Screw Size:
M6
Dimensions [mm]
Item No.
Poles (P)
Length (L)
Width (W)
Height (H)
TA-060-01P
1
20.5*1+34.0=54.5
50.0 mm
38.0 mm
TA-060-02P
2
20.5*2+34.0=75.0
TA-060-03P
3
20.5*3+34.0=95.5
TA-060-04P
4
20.5*4+34.0=116.0
TA-060-05P
5
20.5*5+34.0=136.5
TA-060-nP
n
20.5*n+34.0
34.0 mm = Length of End Plate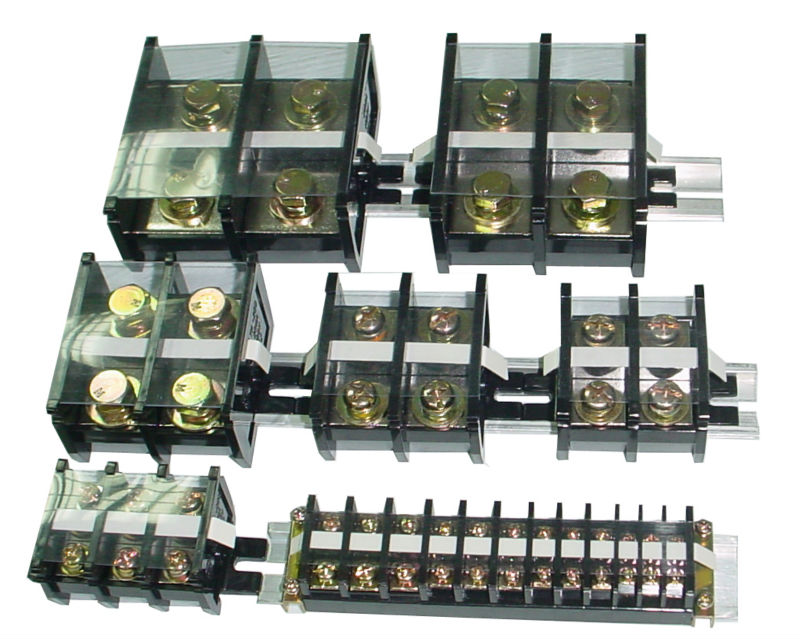 FAQ
FAQ
Q: What are the proper Torque Values for Terminal Blocks?
A: The torque depends on the type and size of screw/hardware used in the terminal block. Torque values can be found on our spec sheet.
Q: What are the proper using conditions and temperature for the Terminal Blocks?
A: For terminal blocks made from plastic, conditions with strong acid, alkali or greasy, or the rate of humidity is more than 60% should be avoided. Temperature should be within -40°C~110°C, and do not use them in frozen or dew formed condition.
Q: How can I get your quotation?
A: Please provide us informations as below:
1. Item Number.
2. Quantity.
3. Company Profile (Name, Tel, Fax, Address, and Webpage)
4. Any Other Relevant Details.
Q: How long is the lead time after placing the order?
A: Lead time depends on a number of factors, such as the stock and production status. Usually the sample orders take about 2~3 business days, and the mass orders take about 7~14 business days after the order is placed.
Q: How long does the delivery time take?
A: We send our goods from Taiwan, and the delivery time depends on the location of your delivery address, and the shipping way will be Express Service, Sea Shipping, Air Shipping for you reference. Express Service: The ETA will be 3~7 days after remitting the Payment. Sea Shipping and Air Shipping: It will be depended on Logistic Schedule after remitting the Payment.
Q: Which type of terminal block should I choose?
A: First, you need to check how much ampere and voltage rating you require and how many wires need to be connected, and how to be connected. In addition, you can choose a way you prefer to install your terminal blocks (by screwing, plugging, welding or you can clip or screw them on a DIN rail)? Or do you have any other special requirement (heat resistant, grounding, different colors or other customized demand)?
Webpage: Terminal Block (TA-Series)